Description
Description of AESUB Blue Scanning spray 3D
AESUB blue is a self-vanishing scanning spray developed by scanning experts. The spray evaporates within a few hours, meaning that there is no need for cleaning after scanning.
Unlike traditional sprays, AESUB blue does not contain pigments and thus avoids pigment-contamination of sensitive areas, such as laboratories and production sites, equipment and users.
You can therefore apply this spray directly, on spot of scanning, without any costly transport to avoid said pigment-contamination in sensitive areas.
Overall, AESUB blue greatly increases efficiency and productivity within the digitizing processes.
Technical specification Safety data sheet (SDS)
How to apply AESUB Blue?
Apply AESUB blue from 15-20 cm away. Gently push down the spray button and move the can across the area using even, back and forth strokes. Move at a consistent pace to achieve an even coating. Spray over the entire surface that you will be scanning.
Scan can be started as soon as you have a stable & white coating.
Scan object in usual manner.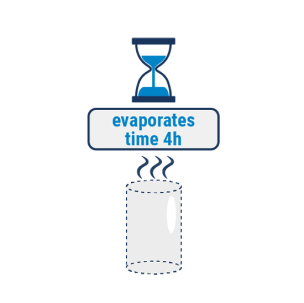 The applied coating of AESUB blue sublimes and thus eliminates the need for complex cleaning after use.
Characteristics and properties
Content: 400ml
sublimating / self-evaporating
no subsequent cleaning required
saves time and money
minimum layer thickness: 8 – 15 µm
pigment-free: does not damage sensitive measuring technology
consistent and homogeneous coating
good adhesion of reference points
optimised material compatibility
excellent scannability
Applications:
automotive industry
mechanical and plant engineering
aerospace sector
energy sector
architecture
design / plastic art
digital archiving
reverse engineering
optical measurement technology
research and development
process monitoring
inline scanning
measurement service
surface inspection
Warnings on AESUB Blue Scanning spray 3D:
P210 – Keep away from heat, hot surfaces, sparks, open flames or other sources of ignition. Do not smoke.
P211 – Do not spray on an open flame or other source of ignition.
P251 – Do not pierce or burn, even after use.
P273 – Do not release into the environment.
P410+P412 – Protect from sunlight. Do not expose to temperatures exceeding 50 °C/122°F.
P501 – Dispose of contents/container in accordance with local/national regulations.
Hazard statements:
H222 – Highly flammable aerosol.
H229 – Pressurised container: may burst if heated
H412 – Harmful to aquatic life with long lasting effects.
EUH 066 – Repeated exposure may cause skin dryness or cracking.